Brain Art: Axial Mosaic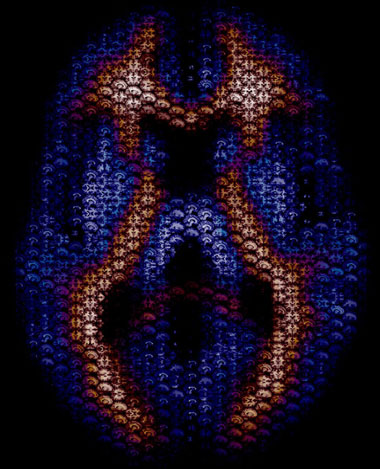 This is a piece we did as a cover illustration for the journal Human Brain Mapping. It depicts an axial slice of the brain composed of smaller images in the axial, sagittal, and coronal planes. To get the smaller images we used a simple Matlab script to go through each subject's high-resolution 3D anatomical image and grab all possible 2D images in each plane. This resulted in 157 sagittal images, 189 coronal images, and 156 axial images for each subject. In total we ended up with about 10,000 smaller images to use. We then used the program MacOSaiX to take the thousands of small images and find the best fit for each hexagonal cell to represent the larger axial image. The blue and red coloring was added in Photoshop and represents the probabilistic values of white and gray matter in the current slice.
Click through to the larger image to really get a better feel for the photo. Cheers!